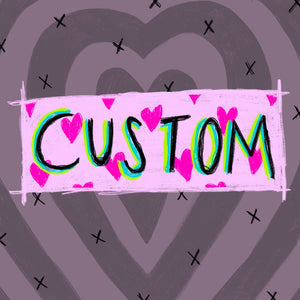 CUSTOM £100
Made from organic cotton canvas

Custom designs need to be agreed to before purchase,  contact me about design through Instagram @shop_pink_moon
Please leave your Instagram handle above so I can link each order to the design we discuss through dm! 
***Please allow up to 6 weeks for production!***
Please note custom designs drawn by me and based on my own work may be added to my shop for preorder for other customers.

Please note that colours may not be as vivid in paint as they are in the digital designs made for custom orders. Paint gets heat set and the piece gets washed so it is important to expect a more washed out effect as can be seen in other items for sale in my shop.